Sustainable travel is on the mind of every decerning traveller these days. But what exactly does it mean?
You can think of sustainable travel as three interconnecting concepts:
Environmental: conserving a respecting the natural environment.

Social: observing local cultural norms and supporting cultural initiatives.

Economic: using your money to support local businesses and people.
Let's dig into these ideas a little further to discover some simple but essential sustainable travel tips for Tenerife.
1. Leave no trace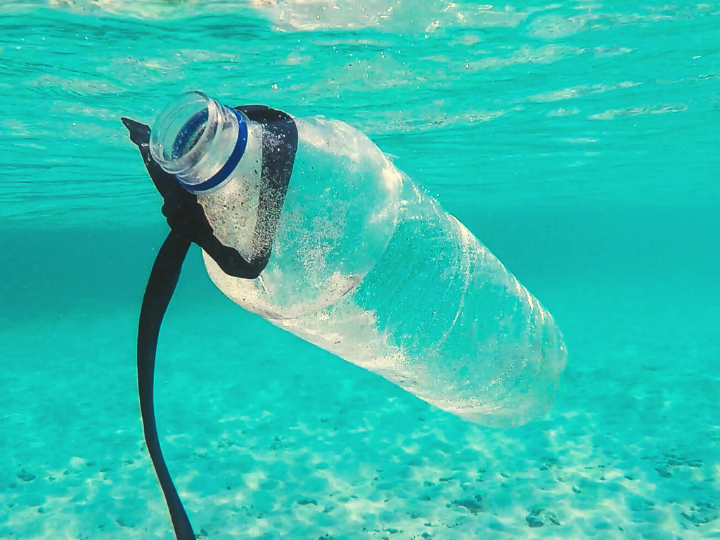 Or even better, leave it cleaner than you found it.
Did you know that a whopping 48.6% of the island of Tenerife is endemic flora and fauna and natural landscape structure?
That's a lot of natural beauty to enjoy and preserve. There are kilometres and kilometres of untouched lava sand beaches, the ancient forest of Anaga, Teide National Park, Teno Rural Park… the list goes on.
You can do your bit to protect the natural beauty of the island by picking up any rubbish you see while hiking or on the beach.
Even better, why not join the weekly beach clean-ups organised by local NGO Plastic-free Canary Island? It's also a great way to meet interesting local people committed to the sustainability of the island.
Wherever you travel the only things you'll want to leave behind are good vibes and footprints.
2) Stay on the beaten path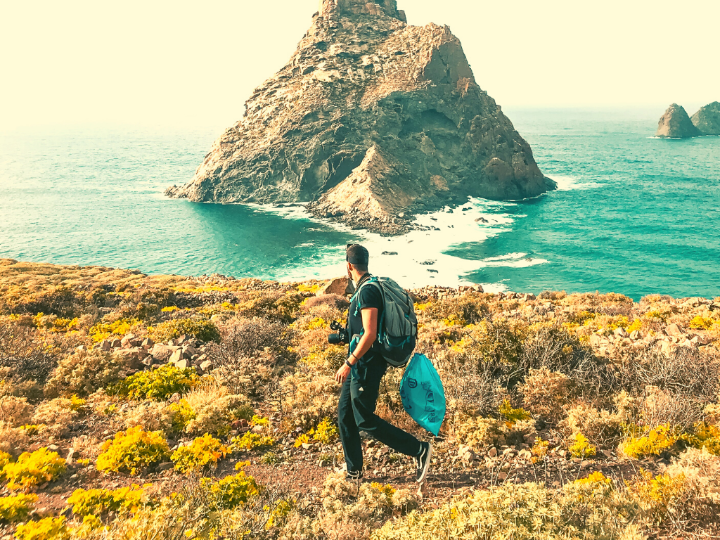 This feels contradictory as we'll always be the first to encourage you to get lost! 
Taking the path less trodden is where the adventures start, for sure. But if you're hiking in a protected natural environment or park it's best to stick to it. You wouldn't want to risk damaging the flora and fauna or step on a pretty little endemic Tenerife lizard (eek!).
If you want to climb the peak of Teide, you'll need to reserve a visitor permit months in advance. That's living proof of how important it is to control the footfall through places of outstanding natural beauty.
3) Get off the (metaphorical) beaten path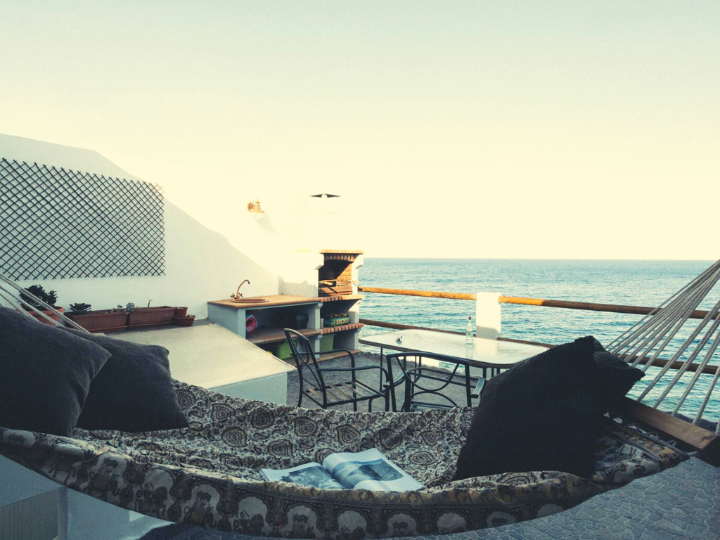 You'll find Tenerife's infamous mass tourism sector clustered in the south west of the island. The kind of tourist activity that goes on in Adeje, Los Cristianos and Las Americas gives our beloved island a bad reputation overseas. The area is famous for its all-inclusive hotel resorts, Irish pubs, inflatable pool toys and sun sizzlers. It's not the most accurate reflection of the real Tenerife.
The overtourism of these areas goes against all three pillars of sustainable tourism.
The natural environment has been replaced by amusement parks and malls.
Local culture has been overridden by holidaymakers. The majority of whom may or may not have left their moral code in the overhead lockers of their Ryanair flight.
The local economy doesn't get a big slice of the pie as the all-inclusive hotels gobble up the profit from tourism.
Away from the masses, Tenerife is a picture-postcard for sustainable travel. Hunt down the guachinches and stay in a family-run holiday rental in a picturesque seaside village.
Tenerife is an excellent sustainable holiday destination. It's full of beautiful, natural, untouched places to visit and explore for the eco-friendly traveller.
4) Reuse, Reduce, Recycle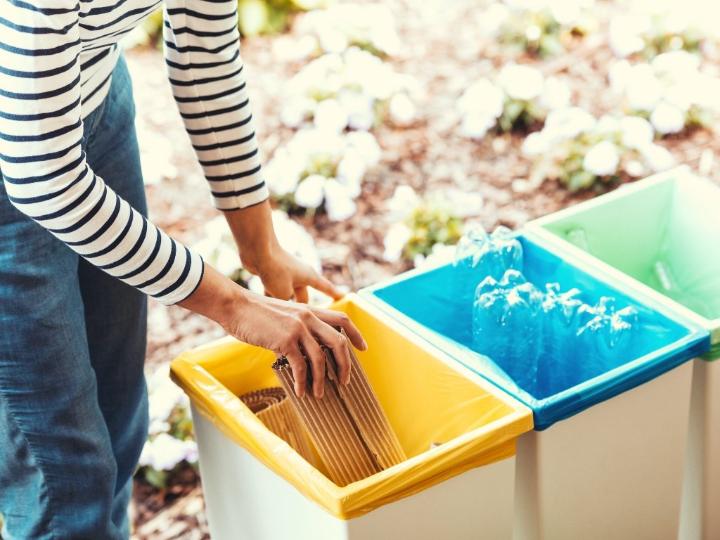 Tenerife is one step closer to an ideal destination for sustainable travel with a ban on single-use plastic that's expected to come into action from January 2021.
In fact, the Canary Islands will be the first region of Spain to ban the use of single-use plastic items. It's a progressive step towards sustainability to help protect these unique and beautiful islands.
Your Tenerife packing list should include some everyday reusable items like a canvas shopping bag, stainless steel water bottle and reusable straws. Imagine how many plastic bags, water bottles and straws you'll save from drifting into the ocean!
It's fair to assume that most of us recycle at home. Though when on holiday you're in a more carefree mindset so it's easier to slack on those habits you swear by at home.
The guilt of chucking last night's wine bottle in with the general waste is fair worse than making a tiny bit of effort to find the nearest glass recycling bin.
Recycling in Tenerife is super easy and accessible, and we'll tell you exactly how to do it. 
Look for 3 big refuse bins in green, yellow and blue. They're usual together.
Green for glass. Yellow for plastic and tins. Blue for paper.
Easy.
5) Hop on a Gua Gua (that's local bus to the Canarios)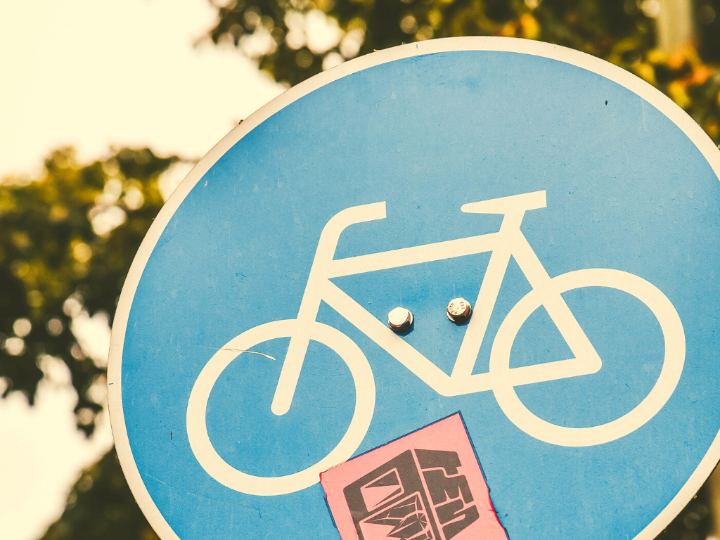 Your own hire car is great as it gives you total freedom. But taking public transport is one of the best things you can do for the environment when travelling.
Using public transport in Tenerife helps reduce carbon emissions and it will add to your holiday experience: the locals are always up for a chat!
The bus system in Tenerife is excellent and affordable. If you plan to stay in either Santa Cruz de Tenerife or San Cristóbal de La Laguna, bus is the best way to travel around. Using public transport will also save you the stress of finding free parking in the cities (near impossible!).
If you stay somewhere rural, it's worth thinking about hiring an electric car or one that has low emissions. Extra eco brownie points.
Got any more tips for sustainable travel to Tenerife? We'd love to know the small steps you make to reduce your footprint while on the road. Leave us a comment in the box below.