Comprehensive Holiday Rental Management Services in Tenerife

---
How can SuperHost Tenerife help you get the most
out of your holiday home?
At SuperHost Tenerife we provide a complete holiday lettings management service, giving you and your guests absolute security and peace of mind.

Increase the profitability of your holiday let
Dynamic pricing methods and our expert knowledge of how to optimise prices across the different online travel agencies (OTAs) to cover the commission they charge provides a major profit boost to your holiday home.

Turn your property into a successful business
We help transform your holiday let into a competitive, stable, sustainable and high-yield investment business with a long-term vision.

Capture last-minute bookings
We make sure that your property is maintained to an excellent standard and always ready to receive guests, even last-minute reservations.

Make your property stand out from the rest
A holiday home with charm and style will stand out from the competition and attract your ideal guests. We work with interior designers and construction professionals who can completely reform your property or give it a needed refresh.
We can help you get more bookings, increase your profit and be free from the hassle of running your holiday home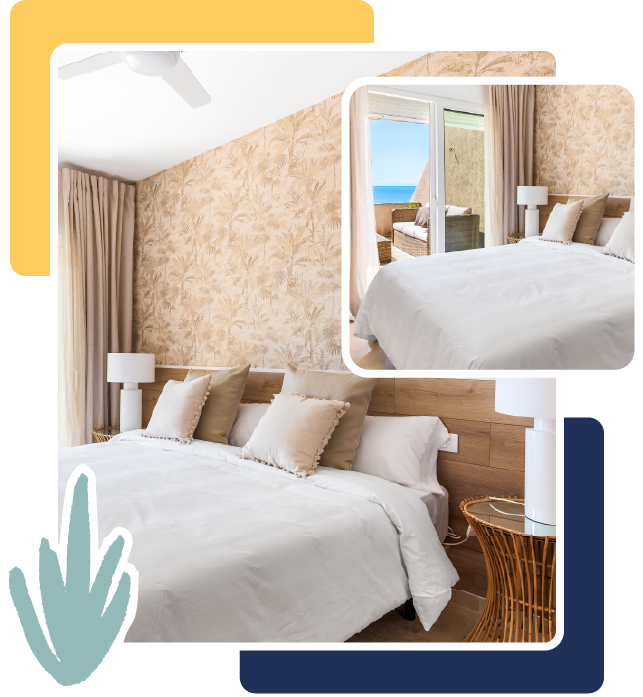 We focus on getting you direct reservations so you have less commission to pay and more profit to enjoy.
We increase your profit by applying dynamic pricing rules and rate strategies to position your holiday let in a competitive market.
Your holiday home will appear high in search engine results so your ideal guest can find it and make their reservation easily.
Your holiday let is promoted online via our website, social networks, as well as on up to 25 online travel agency (OTAs) websites and search engines.
The biggest advantage of direct reservations is that you don't have to pay any extra commission to the OTAs.

Our focus is on increasing your revenue and securing you reservations. To do this, we proactively market your property online.
We advertise your holiday rental via social media, blogs and email campaigns to our database of previous guests.

This way, we can increase your profit, because unlike the OTAs, we never charge any additional commission for bookings made through our website.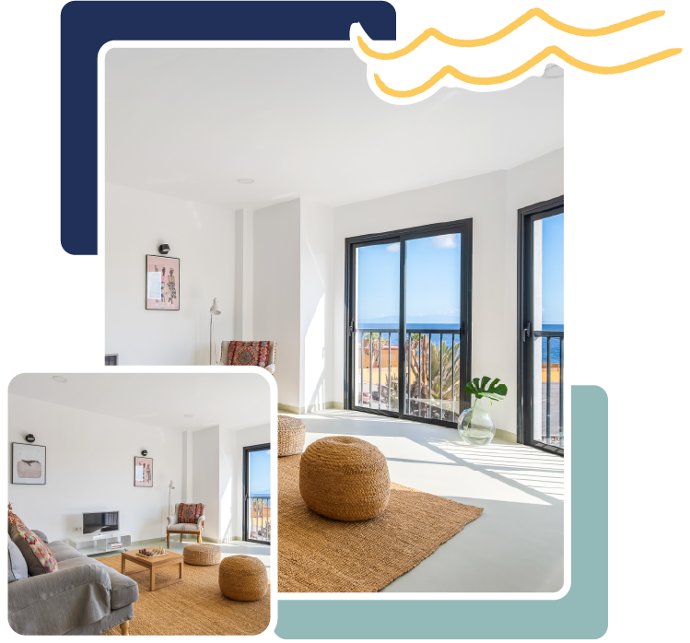 This is how SuperHost Tenerife is different from other agencies…
16% of the guests of the holiday homes we manage were repeat guests in 2019.

We have more than 1,000 4.9/5 online reviews.

El turismo en Viviendas Vacacionales es una experiencia única y es la alternativa a la experiencia homogeneizada del turismo de masas.


We are committed to a conscious and responsible traveller

The conscious, sustainable traveller wants an authentic experience. They prefer to spend their money with small businesses and the local community and are aware of their impact on the environment.

This is the traveller profile we work hard to attract.

We generate a positive guest experience, before, during and after their stay.

As soon as a guest makes their reservation, we send our personally curated recommendations on how to make the most of their time in Tenerife.
We communicate with each guest individually to find out about their preferences so we can generate an experience that exceeds their expectations.

We support sustainable tourism on the island.

Apostamos por la iniciativa para mejorar la calidad del turismo en España "Sustainable Tourism Strategy 2030",
Otro de nuestros objetivos es ser referentes en la isla para propietarios y viajeros conscientes, preocupados por el turismo sostenible y el futuro de Tenerife en el mapa turístico mundial.

STAND OUT ONLINE ADS

5-STAR CLEANING

PERSONLIASED SERVICE

OPTIMIZED PRICES

INFORMES FINANCIERO MENSUAL

CUSTOMISED CONTROL PANEL
What services do we offer for your holiday let in Tenerife?
Greater visibility, security and more bookings for your holiday let.
We take care of the complete management and online promotion of your property (via our web, social media networks, and up to 25 OTAs) so that your reservations calendar is always full.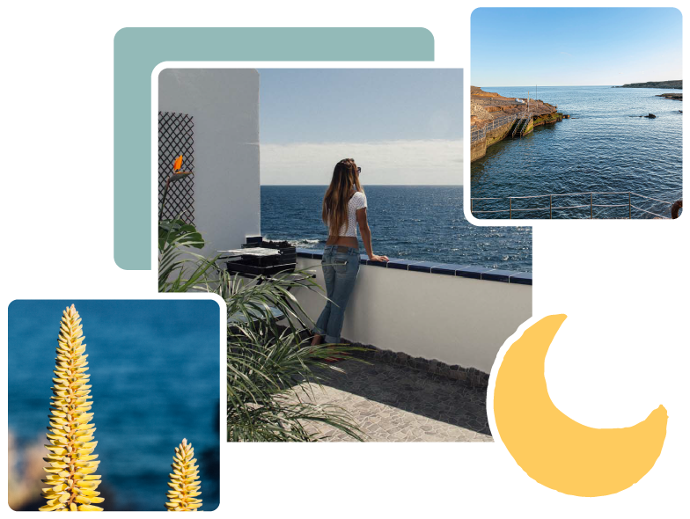 Professional cleaning and laundry service
We'll make sure your holiday let is of a five-star standard. From full professional cleaning after each check-out to a reliable laundry service, including safe storage and management of your holiday let's bed linen and towels.

Attentive and friendly guest communication
We efficiently monitor, manage and respond to your guests' burning questions (in multiple languages) about staying in your holiday home and convert them from browsers into paying guests. In return they feel secure and can't wait to check-in to your property.

Interior design and complete refurbishment
It is important that your holiday let in Tenerife stands out from the rest. We provide a comprehensive and professional renovation service to turn it into a dream holiday home with style and personality.


Total visibility of your reservations
You'll have access to an online control panel and mobile app where you can monitor the occupancy, future bookings and income of your holiday let in real-time. You'll get an instant notification each time a guest makes a booking.

Peace of mind and security
We do background checks on guests, ensure each guest is accounted for and collect a damage deposit prior to their arrival.


Maintenance management
We carry out an inspection of the house after the check-out of each guest. We inform you if the house needs any kind of maintenance and we manage this work with qualified professionals. Your house will always be ready to receive guests.
Choose the best management plan for your holiday let in Tenerife:

COMPLETE MANAGEMENT PLAN
You own a holiday rental in Tenerife but you don't have the time to manage it all yourself. You need an experienced and trustworthy holiday rental agency to manage everything from cleaning, laundry and maintenance to online marketing, guest communication and check-ins.
---
25%
commission for each confirmed reservation
Show me what's included
I'm interested

ONLINE ONLY PLAN
While you enjoy cleaning, maintaining, and checking in guests at your Tenerife holiday rental, you need help with online marketing to attract more reservations, as well as managing all guest communication up until the moment they check out.
20%
commission for each confirmed reservation

Show me what's included
I'm interested
We only charge our commission when your property is occupied
We do not charge any fixed monthly fees for our services

Read what other holiday home owners say about their experience with us



We love being able to visit Tenerife several times a year and stay in our holiday home which pays for itself and gives us a profitable extra monthly income.

I have a demanding job in Barcelona, so it is impossible for me to manage our loft apartment in Tenerife by myself.I am a meticulous person and attention to detail means a lot to me, so it is an absolute joy to open the door of my holiday home in Tenerife and see everything in perfect condition, spotlessly clean and welcoming.I imagine I have the same feeling as my guests must feel when they arrive. I absolutely trust that SuperHost Tenerife is doing an excellent job.



SuperHost Tenerife helped me earn an average of €3,600 per month in 2019 renting out my villa. That's more than double compared to a long-term rental.

I like the control and transparency the mobile app gives me. I can check occupancy, bookings and monthly income, the best thing is receiving notifications when someone has made a booking.



I started managing my holiday lettings in Tenerife myself, but I seriously underestimated the amount of work needed to keep everything running smoothly.

It was challenging for me to communicate with guests and manage check-ins and check-outs. With my other personal commitments, it was not possible for me to continue on my own.

SuperHost Tenerife's service pays for itself and helps me to earn a profitable and passive extra income.
Frequently Asked Questions:
How much does SuperHost Tenerife's service cost?
We offer two management plans so you can choose depending on your personal requirements.
Our Complete Management Plan costs 25% of each confirmed reservation.
Our Online Only Plan costs 20% of each confirmed reservation.
How can I work with SuperHost Tenerife?
The first step is to send us a short description and pictures/videos of your property by email or WhatsApp.
Si consideramos que la gestión de tu propiedad es una buena opción para ambas partes organizaremos una reunión en la propiedad o en nuestra oficina para repasar nuestro acuerdo y darte la oportunidad de hacernos cualquier pregunta.
After we have signed the contract, we will start marketing your property on all of the online channels and our website as soon as possible to secure reservations.
How and when do I receive the payments for my holiday home?
Depending on how the reservation was made, you will receive payment for the nights booked in your holiday rental in one of two ways.
Payments are sent directly to your account for reservations made via any of the online travel agents (Airbnb, Booking, etc.). We will then send you a monthly commission invoice.
For reservations made via our website, we will send your payment via bank transfer, minus our commission, before the 15th day of each month along with a monthly commission invoice.